Production System
Effeciemme Componenti provides two different product lines, manufactured in separated Plants: Sealing Systems and Lip Seals are made in Via Sommaruga, in Carnago; the Branch in Via Ronco is concerned with the production of self-lubricating Bushings, Washers and laser cut parts.
14 CNC lathes are available for manufacturing Lip Seals.
Standard components are made using unified programs for all machines. They are validated only after positive testing.
This way of working ensures that the item profile will always be produced in the same manner – only diameters are changed.
The manufacturable diameters vary from a few millimeters to a maximum of 2750 mm.
The Bearings and Washers Plant is equipped with CNC calendars, sandblasters, a laser cutting machine and a laser marking machine.
A special area is dedicated to gluing and another one to testing.
Production capacity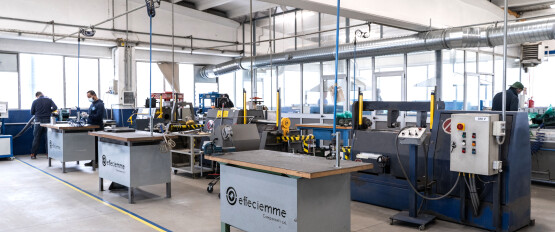 The use of technologically advanced equipment and specific softwares allow us to handle any type of order (small quantities or large orders).
The production system was thought to ensure maximum flexibility, without neglecting the rigorous quality procedures.
Thanks to the high level of automation, the use of the most innovative technology along with multi-level quality control during every production step, we are the ideal partner who can meet all demands of customers.
Warehouse
We have a warehouse designed to meet the needs of our production.
Effeciemme Group is able to meet the 82 % of urgent deadlines (2014 Effeciemme Internal Statistics) that are managed also just in time.
The incoming material is carefully checked and it is fully traceable both through batch production of our qualified suppliers and through further internal Effeciemme lot.
The IT management of all activities related to the warehouse thanks to bar code ensures immediate and reliable traceability, reducing human errors.
The materials can be supplied with certification 3.1.